Our Philosophy and Mission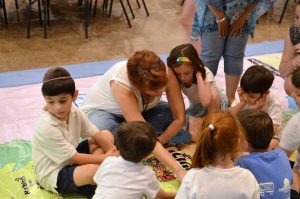 We know that young children view the world concretely.  Opportunity for learning must build on the child's knowledge, understandings and experiences.  At The Alefbet Preschool, we create an environment for children that supports their natural desire and ability to learn.  We observe, we explore, we encourage, we ask open ended questions, we challenge, and we provide materials and activities based on their development and emerging ideas and skills.  Our environment invites children to think, to make choices, to experiment, to interact, to be an active learner and learn at their speed and at their time.
Our Alefbet Preschool is a warm, loving environment where the cognitive, social, emotional, physical and spiritual development of each child is nurtured. Our Alefbet Preschool is a place where children are seen as active learners who construct knowledge from a challenging and stimulating environment.  Our Alefbet Preschool emphasizes the joy in being Jewish and our environment helps to support young children's moral development.
At the Alefbet preschool every educator knows every child. We pride ourselves on our strong connections to our children and to our families as well.  Educators, parents, and children are all partners in the educational process. This helps to build the trust and the relationships that are so crucial to early learning.  Education does not stand alone, it requires all those loving adults to work together for each child's best interests.
Come join us as we play together, learn together and celebrate together!