Curriculum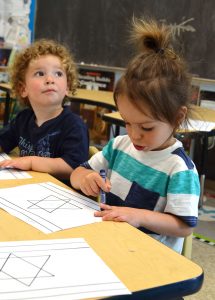 Alefbet Preschool aims to serve as a support for whole families, working in partnership with parents to help meet the emotional, social, physical, spiritual and cognitive needs of their yeladim (children). Yeladim are guided in dealing with their feelings and with their peers feelings as well to become members of the larger community of Alefbet Preschool. Our environment is designed to be caring, warm and responsive. Structure is provided through careful room arrangement and with flexible rules and routines that have an order which is safe and predictable.
Within the daily regular schedule, children are encouraged to make many individual choices. We believe that children learn best when they are actively engaged in their own work and play. Carefully planned small group and individual activities in art, cooking, music, storytelling, movement, premath and science are the vehicles for providing such experiences. Materials and projects are thoughtfully selected to be appropriate to the developmental levels of the children. Our indoor space is divided into informal interest areas for block building, science, dramatic play, art projects, cooking, manipulative and private spaces, activities and quiet places.
We view the outdoors as an important extension of the indoor experience too. We have worked hard to make sure that the children have a place that provides for physical challenges in many areas – running, climbing, sliding, digging, building, riding bikes and dramatic play.
Please read on and find out even more about each of our classrooms…..
Alefbet Babies 6 weeks – 12 months
Our Alefbet Babies program is your baby's home away from home! Our program develops
meaningful partnerships with each family to maintain continuity between home and preschool.
We focus on creating experiences and opportunities that invite exploration and support the
incredible growth and development of your child at this age. Our infants are looked after with a
developmental understanding of their age, with warmth, joy and consistency. Our warm and
loving educators communicate with each family every day, sharing detailed information about
your baby's day.
The 1's – Devorim (Bees)
These "little ones" are incredible explorers! For the first year of life, your child has been soaking up all the experiences that surround them. They want to understand everything around them from every angle and every perspective. They are moving around and can't seem to stop! Their hands want to open and close, dump and refill, climb up and then down. They are into everything and that is how they learn. Verbal communication is happening too! We get down on the floor with them and play and interact, we role model with our language and behaviors so that our 1′s, who soak up everything, are learning appropriately. Socially, they are beginning to explore who they are as people, and learn to relate to others too. This is the age of "Me and Mine" and grabbing is common place and developmentally appropriate for this age. Patience, guidance, consistency and repitition are the key. Learning involves experimentation and observation and it happens all day long!
We do require our 1 year olds to be walkers before starting our program.
The 2's and 3's – Parparim (Butterflies)
This is the age that children start to transition into being a 'big kid'! the 2 year olds engage in activities that are more complex in nature then the ones. These children are experiencing an explosion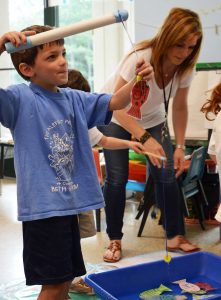 of language! In class, they learn to express themselves in words, phrases, and eventually sentences. Physical development becomes more complex, pretend play gains more details and props are incorporated, and circle time grows due to lengthier attention spans.
Two's are at a stage of independence and limit testing. Our small ratios provide the means for the educators to observe, encourage and build appropriate limits regularly. Toilet Training usually occurs at this age as well.
This is a great time to start learning values and skills that will be in their toolbox for life. We create an environment that is secure and nurturing where the child feels totally accepted, loved and safe. Once a child feels their valued, he or she can begin to fully explore the surrounding environment with confidence. We provide loving, gentle direction and lots of modeling. We offer many activities through out the day that gives each child the opportunity to build upon their physical development, encourage language, practice building social skills, create a cognitively-stimulating environment, allow each child to be able to express their needs and be proud of their Judaism. Stories, music and movement, art, manipulatives and puzzles, cooking, climbing and running are only some of what we do daily. We also experiment, we create and we have fun!
The 3's – Nitzanim
The 3's are now able to focus more on their social skills while gaining independence. They develop the ability to complete a task alone or within a group and they strengthen their moral development through dramatic play. These children develop their pre-math abilities through sorting, counting, and estimating. The 3's focus on language development by listening, responding, reading, writing, and talking in order to express their needs as well as their ideas. They are learning to use the small muscles of their hands in order to be ready for writing, shoe-tying, and using scissors. Using manipulatives that strengthen fine motor skills are a focal point of this year. It is a year where children will be able to learn to recognize their names, write their names, identify colors, shapes, and basic numbers. It is a year where they question more, try to understand more and build their attention spans and concentration levels.
The 4's – Kochavim (Stars)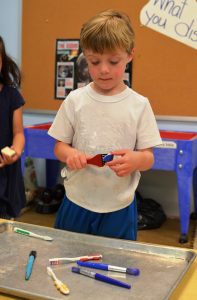 The 4's are dynamic and want to explore the bigger world around them and figure out how they fit into it. Curriculum for this age group must be challenging and creative, yet supportive of each child's own needs, interest and learning styles. This year, the teachers emphasizes skills that are developmentally appropriate for the year before kindergarten and specific to each child's needs. The program is designed to nurture and challenge children in all areas of development.
We focus on problem solving, social skills, literacy, writing, whole language, pre-math, science, motor skills, and of course our Judaism. We believe that learning for young children occurs through 'experiencing', rather than just 'knowing'. It is through their own exploration that the skills become 'owned'. The process of learning is just as important as the 'product'.
We understand the expectations of Kindergarten and we prepare the children for it!
Judaics
Judaics is an integral part of our program. Building a love of our people, of our customs and traditions, of Shabbat, of the Torah, and of our values is incorporated into all that we do. Our children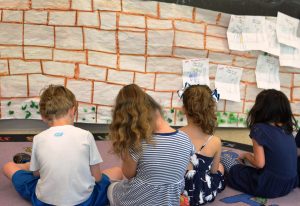 learn the joy of being Jewish and celebrating within a Jewish community. Shabbat each week is celebrated as a community at our Shabbat Oneg. This Oneg takes place every Friday at 1:00 in our sanctuary. Everyone is invited to participate and stay for challah and grape juice.
We are privileged to be your partners in educating your children!