Weekly Morning Specialties
Music Class/Movement Class
Movement at the Alefbet Preschool is designed for the early development of rhythm and movement. Since children respond naturally to music, we present our activities through music. Children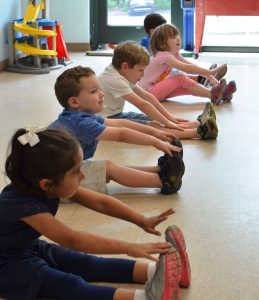 will learn self-discipline, listening skills, left and right discrimination, and patterns in movement.
The class is designed to improve body awareness and foster self-confidence, emphasizing motor skill development, overall coordination, limbering, and muscle tone. Movement is the perfect preparatory class for sports, dance, gymnastics, or simply an active lifestyle.
Creative Movement and Dance is the premier onsite dance instruction throughout the Southeast. CMD's mission is to provide professional, quality creative movement and dance instruction at child care centers, parks and recreation facilities, and private and public schools. We are committed to quality training provided by the most qualified instructors throughout the South.
Each week StudioGo will provide a fun, fast-paced music and movement class as part of your child's preschool day. StudioGo  Movement focuses on balance, motor coordination, flexibility and more to help develop fine/gross motor skills.  StudioGo Music involves introduction of new music and old favorites – it's all age-appropriate and incorporates music aptitude, repetition, rhythm and language acquisition to help develop musicality.
Science Class
Our children explore science through observation, evaluation, and experimentation!  We integrate our science topics into the holidays and seasons of the year, as we understand that the more connections children make, the deeper their learning.  The projects are tailored to each age group and are constructed to inspire and enhance children's natural curiosity about the world.  Our little scientists have explored such topics as frogs, leaves, wind, and evaporation!
Ms. Julie from Sprouting Scientists leads us into a curious world of science and nature. Our lessons are active and interactive and we focus on getting messy and learning basic scientific principles while having fun with hands-on activities.