Weekly Morning Specialties
Music Class
Robyn Shippel returns as our Music specialist! She has over 20 years experience as a music teacher in the Atlanta area and her love and knowledge of music shines.  Ms. Robyn works closely with our staff to incorporate our class themes and Jewish holidays into her music classes.  Integrating our curriculum gives our children a 'whole' approach!
Movement Class
Movement at the Alefbet Preschool is designed for the early development of rhythm and movement. Since children respond naturally to music, we present our activities through music. Children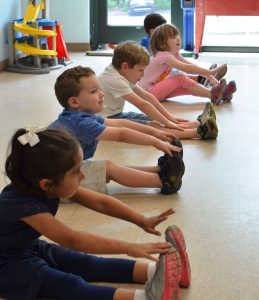 will learn self-discipline, listening skills, left and right discrimination, and patterns in movement.
The class is designed to improve body awareness and foster self-confidence, emphasizing motor skill development, overall coordination, limbering, and muscle tone. Movement is the perfect preparatory class for sports, dance, gymnastics, or simply an active lifestyle.
Creative Movement and Dance is the premier onsite dance instruction throughout the Southeast. CMD's mission is to provide professional, quality creative movement and dance instruction at child care centers, parks and recreation facilities, and private and public schools. We are committed to quality training provided by the most qualified instructors throughout the South.
Leah Matthews, or "Ms. Leah" to the students, is a Licensed Territory Owner with CMD, and she owns/operates the territory of Dunwoody, Sandy Springs, Buckhead, Brookhaven, Chamblee, Smyrna, Marietta, and Roswell. Leah started dancing at a young age and is classically trained in ballet, tap, jazz, modern, lyrical, and pointe. She has competed and performed at events across the country. Leah is passionate about movement and living a healthy lifestyle. She loves to share this joy with little ones and hopes to encourage each child to have fun while being active.
Science Class
Our children explore science through observation, evaluation, and experimentation!  We integrate our science topics into the holidays and seasons of the year, as we understand that the more connections children make, the deeper their learning.  The projects are tailored to each age group and are constructed to inspire and enhance children's natural curiosity about the world.  Our little scientists have explored such topics as frogs, leaves, wind, and evaporation!
Ms. Julie from Sprouting Scientists leads us into a curious world of science and nature. Our lessons are active and interactive and we focus on getting messy and learning basic scientific principles while having fun with hands-on activities.